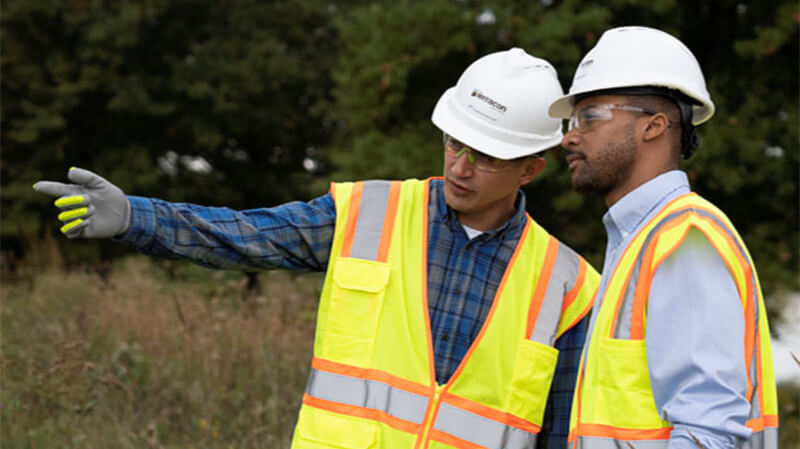 Laboratory Supervisor
Woodway, Texas
Regular, Full Time

Job ID

23489BR
United States
Job Description
General Responsibilities:
Responsible for coordinating or managing the activities of a Construction or Geotechnical materials laboratory (testing includes materials such as soils, aggregates, concrete, and asphalt). This includes ensuring that the laboratory testing services are conducted in a safe manner and consistent with company quality protocols, project requirements, and in a timely manner. Oversee or coordinate the training and utilization of laboratory staff. Oversee or coordinate the maintenance and cleanliness of the laboratory and testing equipment.
Essential Roles and Responsibilities:
Provides supplemental operating policies and procedures unique to the laboratory to ensure that the testing services are accomplished consistent with Terracon's quality protocol and in an orderly and efficient manner.
Assists Department Management during preparation of proposals and cost estimates for laboratory testing services to ensure a proper scoping of services, availability of manpower, and appropriate pricing to render a profit.
Ensures that laboratory personnel are properly trained, supervised and equipped with the necessary tools and equipment to ensure their personal safety in the office and laboratory.
With oversight from Department Management, supervises or monitors laboratory activities to ensure that the work is executed on time and in accordance with the client and project requirements and within company policies, procedures and standards.
Ensures that laboratory processes and personnel adhere to the requirements of the company Quality program and the Construction Materials Quality Management System (QMS).
Evaluates the performance of all employees within the laboratory and assists them in their professional development and growth, consistent with company policies and procedures.
Supervises the efficient utilization of facilities and equipment assigned to his or her area and makes requests for additional equipment and facilities as needed to meet the client's demands.
Oversees calibration and maintenance of the laboratory equipment.
Ensures the proper organization and appearance of the laboratory area for which he/she is responsible, including keeping the area and equipment clean and uncluttered.
Provides assistance to the Department Manager, directs the short-range business development activities of laboratory personnel to ensure that adequate fees are available to support the manpower staffing levels.
Directly supervises the administrative systems of the laboratory to ensure that reports, proposals, and information required to serve the client are properly prepared and reported.
Ensures that laboratory personnel follow company administrative policies. Examples of such policies include, but are not limited to, time sheets, expense reports and purchase order requirements.
With the assistance from the Department Manager, plans, recruits, selects and provides training for personnel in the department.
Performs construction and geotechnical related laboratory testing.
Develop understanding and be aware of project-related risk. Be familiar with what could go wrong on a project and how to protect the Company. Be familiar with company risk policies.
Lead safety efforts for team and ensure team follows safety rules and guidelines. Responsible for creating and modeling a safe work environment; demonstrates safety practices. Promote pre-task planning for all projects.
Promote continuous quality monitoring and improvement on projects. Monitor quality standards and practices. Engage APRs on projects at their onset.
Requirements:
High school diploma or equivalent.
Minimum 3 years' experience performing laboratory tests on construction and geotechnical materials.
Certification by qualified national, regional or state authorities (ACI, NICET, DOT) or in-house certification is required in areas such as concrete, aggregates, soil and rock, or road and paving materials.
Valid driver's license with acceptable violation history.
About Terracon
Terracon is a 100 percent employee-owned consulting engineering firm providing quality services to clients. Since 1965, Terracon has evolved into a successful multi-discipline firm specializing in environmental, facilities, geotechnical, and materials services. Terracon currently has more than 5,000 employees in more than 150 offices with services available in all 50 states. Terracon's growth is due to valued employees exceeding expectations in client service and growing their careers with new and exciting opportunities in the marketplace.
Terracon's vision of "Together, we are best at people" is demonstrated through our excellent compensation and benefits package. Based on eligibility, role and job status, we offer many programs including medical, dental, vision, life insurance, 401(k) plan, paid time off and holidays, education reimbursement, and various bonus programs.
EEO Statement
Terracon is an EEO employer. We encourage qualified minority, female, veteran and disabled candidates to apply and be considered for open positions. We do not discriminate against any applicant for employment, or any employee because of race, color, religion, national origin, age, sex, sexual orientation, gender identity, gender, disability, age, or military status.