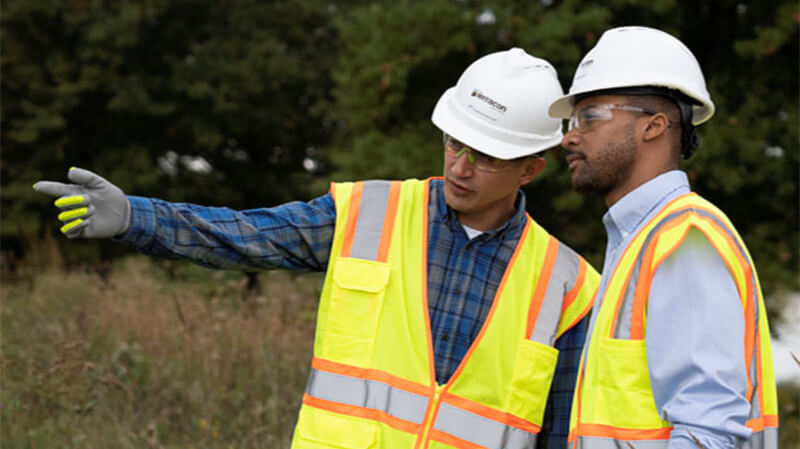 Asbestos/Industrial Hygiene Group Manager
Winter Park, Florida
Regular, Full Time

Job ID

23268BR
United States
Job Description
Job Description
Terracon's Winter Park, Florida office is seeking a self-motivated, growth-minded individual for the position of Group Manager in our well-established environmental practice! This position offers a professional growth opportunity with the nation's #1 ranked asbestos and lead design firms (ENR). Terracon's market penetration in the central Florida market offers career stability working with a seasoned group of industrial hygiene professionals.
Terracon has over 200 asbestos practitioners in 70 offices, plus 27 CIHs and another 150 industrial hygiene practitioners in offices from coast to coast. We are committed to growing our asbestos/industrial hygiene service line by providing the highest quality service, growing the diversity of industry sector projects, developing and retaining skilled professionals, and growing our national asbestos/IH coverage footprint.
General Responsibilities:
In this role, you will be responsible for supporting our asbestos, lead, mold, indoor air quality, and industrial hygiene services by marketing our services and leading a team of other industry professionals. As a Group Manager, you will supervise or monitor all projects in progress in the asbestos/IH group to ensure that work is executed on time in accordance with the client's requirements and within company policies, procedures and standards. Supervise the preparation of proposals and cost estimates to clients to ensure proper scoping of services, availability of manpower and pricing to achieve desired profitability. Supervise the daily operations of a department including staff training, development, and performance review, utilization of equipment and facilities, safety oversight, quality of services and work product, timely delivery of services and deliverables, and adherence to policies and procedure. Plan for and participate in business development activities to identify, develop, win, and execute project opportunities and build and maintain client relationships.
Essential Roles and Responsibilities:
Responsible for preparation of proposals and cost estimates.

With support from the Department/Office manager perform business and client development activities.

With support from the Department/Office Manager develop and manage employee staffing plans, recruitment, selection and on-boarding.

Directly supervise and manage a team of environmental staff within the asbestos/IH group.

With support from the Department/Office Manager prepare and execute annual business plan for the specialty service group.

With support from the Department/Office Manager oversee and manage the success of the key group metrics of revenue growth, staff chargeability, project billing and collections, and project profitability.

Develop understanding and be aware of project-related risk. Be familiar with what could go wrong on a project and how to protect the Company. Be familiar with company risk policies.

Lead safety efforts for team and ensure team follows safety rules and guidelines. Responsible for creating and modeling a safe work environment; demonstrates safety practices. Promote pre-task planning for all projects.

Promote continuous quality monitoring and improvement on projects. Monitor quality standards and practices. Engage Terracon senior-level reviewers, authorized project reviewers (APRs), on projects at their onset.

Perform field studies and technical report writing including asbestos inspections, lead-based paint inspections, mold surveys, air monitoring, abatement/remediation projects, and inventories/assessments of other regulated hazardous substances.

Operate and maintain field monitoring equipment, maintain chain-of-custody in sample submission to laboratory for analysis.

Collect, oversee, and/or manage complex laboratory/field sampling data, prepare reports, risk assessments, and develop recommendations to correct or improve the environment.

Other industrial hygiene related activities as assigned.
Requirements:
Bachelor's degree in industrial hygiene, environmental science, or closely related field and 10 years' practice experience. Or, in lieu of a degree, a minimum of 15 years' related experience.

Valid driver's license with acceptable violation history.

Professional certification in three or more of the listed disciplines:

EPA AHERA Asbestos Inspector

EPA AHERA Asbestos Contractor/Supervisor

NIOSH 582 – Phase Contrast Microscopy Air Sample Analyst

EPA Lead Inspector

EPA Lead Risk Assessor

Florida Licensed Mold Assessor
Preferred:
Florida Licensed Asbestos Consultant (FLAC)

Certified Industrial Hygienist (CIH)

Certified Safety Professional (CSP)

Certified Hazardous Materials Manager (CHMM)
General Working Conditions:
This position requires the employee to work flexible hours and occasional weekends. Occasional overnight work and/or travel may also be required.

The employee must be able to lift and carry for short distances up to 50 ponds and assist in team lift and carry for short distances up to 100 pounds.

This position occasionally requires the employee to work in humid, hot, damp, and cold conditions as well as work at heights and in close spaces.

This position requires ladder use, including the use of 16' to 28' extension ladders.
LI-SC1
About Terracon
Terracon is a 100 percent employee-owned consulting engineering firm providing quality services to clients. Since 1965, Terracon has evolved into a successful multi-discipline firm specializing in environmental, facilities, geotechnical, and materials services. Terracon currently has more than 5,000 employees in more than 150 offices with services available in all 50 states. Terracon's growth is due to valued employees exceeding expectations in client service and growing their careers with new and exciting opportunities in the marketplace.
Terracon's vision of "Together, we are best at people" is demonstrated through our excellent compensation and benefits package. Based on eligibility, role and job status, we offer many programs including medical, dental, vision, life insurance, 401(k) plan, paid time off and holidays, education reimbursement, and various bonus programs.
EEO Statement
Terracon is an EEO employer. We encourage qualified minority, female, veteran and disabled candidates to apply and be considered for open positions. We do not discriminate against any applicant for employment, or any employee because of race, color, religion, national origin, age, sex, sexual orientation, gender identity, gender, disability, age, or military status.