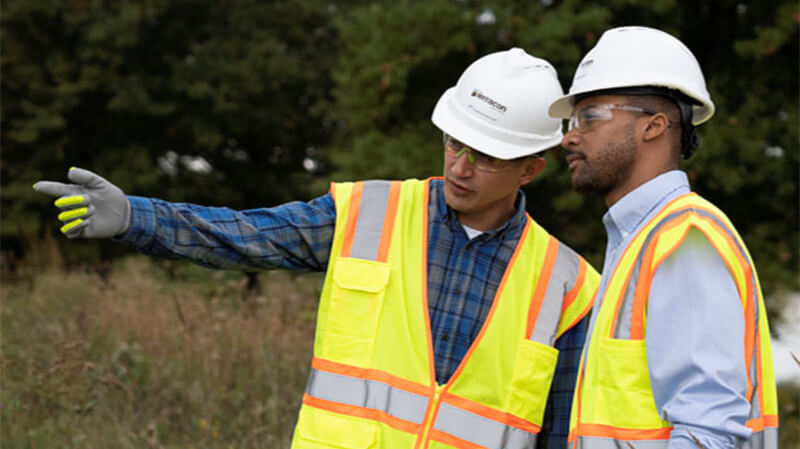 Driller/Exploration Team Member IV
Plymouth, Minnesota
Regular, Full Time

Job ID

22265BR
United States
Job Description
There are many reasons why you should consider beginning a career with Terracon - including a generous sign on bonus when you begin your career with us!

As an employee-owned company and over 50 years strong, Terracon provides stability through continued company growth, and a deep commitment to employees' development and wellbeing. Here your voice is heard! Your part of a team working to delivery successfully on projects. Terracon embraces expanding your knowledge and career through continued education, yearly company workshops, opportunity for exposure/training to various drilling techniques (e.g. air rotary, barge drilling) and offers opportunities for promotion in your career.



Being an exploration team member at Terracon is special. Terracon has great support for our exploration members. We have a wide network to draw from and will have your back. We have a strong safety culture and protocol because you going home safe at the end of the day is our top priority. This is proven by making sure our rigs are well maintained, people are trained, and adherence to our safety program and procedures, along with DOT compliance. You are empowered to call out any safety concerns as they arise and stop work when necessary.



What you will do, as a mid to senior level operator/foreman:
Operate drill rig(s) in support of geotechnical and environmental explorational services. We need someone who is a self-starter, energetic, and can lead their exploration team. Overnight travel will be required. Be asked for input on time needed to complete certain projects, tools and resources need to more efficiently carry-out your job duties, provide input on new rigs and supporting equipment orders. May assist in ordering and tracking stock supplies, spare and/or maintenance parts & supplies. Mentoring and training of lower tiered exploration staff (Operator Training).

General Responsibilities:
Perform subsurface exploration duties using conventional drilling or in-situ testing techniques. Drilling may include auger drilling, mud rotary drilling, air rotary and diamond bit coring techniques. Some of our methods are performing split- spoon and Shelby tube sampling techniques. In-situ testing techniques may include cone penetration testing (CPT), pressure meter and other, related apparatus. Work also includes installation of instrumentation, piezometers and monitor wells. Work as part of a multiple person team on projects. Field locate exploration points and determine elevations of points. Develop site reconnaissance information. Collect, log and transport soil samples. Load exploration tools and instrumentation/well installation tools and supplies onto trucks, trailers and/or drill rigs, as required by project(s). Prepare and review field boring logs using Unified Soil Classification System (USCS) and basic standard rock classifications and site description forms. Prepares United States (US) Department of Transportation (DOT) paperwork and E-Logs, as required. Provide input as to how to best perform exploration tasks. Report required maintenance to supervisor and perform maintenance tasks as required.

Essential Role and Responsibilities:
Operate drill rigs and capable of performing auger, mud rotary and rock coring drilling methods

In charge of two or three-person crews on projects requiring borings ranging to depths of approximately 100 + feet.

Follow safety rules, guidelines and standards for all projects. Participate in pre-task planning. Report any safety issues or concerns to management.

Be responsible for maintaining quality standards on all projects.

Meets with utility companies and/or verifies that boring locations are clear of underground utilities (utility tickets are valid by date designation and utilities appear to me marked).

Responsible for the safety of the exploration crew and for ensuring that the assigned safety gear is being utilized during the execution of the project.

Drives and maintains company vehicles and operates all combination auger and mud rotary drill rigs.
Requirements:
High school diploma or equivalent.

Minimum 6 years of relevant experience or the equivalent in training and related experience.

Class A CDL license with Medical Card

Valid driver's license with acceptable violation history.
Preferred
Driller/well licensure

CPR/First Aid Trained

OSHA 40-Hour Course

MSHA Training/Certification
About Terracon
Terracon is a 100 percent employee-owned consulting engineering firm providing quality services to clients. Since 1965, Terracon has evolved into a successful multi-discipline firm specializing in environmental, facilities, geotechnical, and materials services. Terracon currently has more than 5,000 employees in more than 150 offices with services available in all 50 states. Terracon's growth is due to valued employees exceeding expectations in client service and growing their careers with new and exciting opportunities in the marketplace.
Terracon's vision of "Together, we are best at people" is demonstrated through our excellent compensation and benefits package. Based on eligibility, role and job status, we offer many programs including medical, dental, vision, life insurance, 401(k) plan, paid time off and holidays, education reimbursement, and various bonus programs.
EEO Statement
Terracon is an EEO employer. We encourage qualified minority, female, veteran and disabled candidates to apply and be considered for open positions. We do not discriminate against any applicant for employment, or any employee because of race, color, religion, national origin, age, sex, sexual orientation, gender identity, gender, disability, age, or military status.