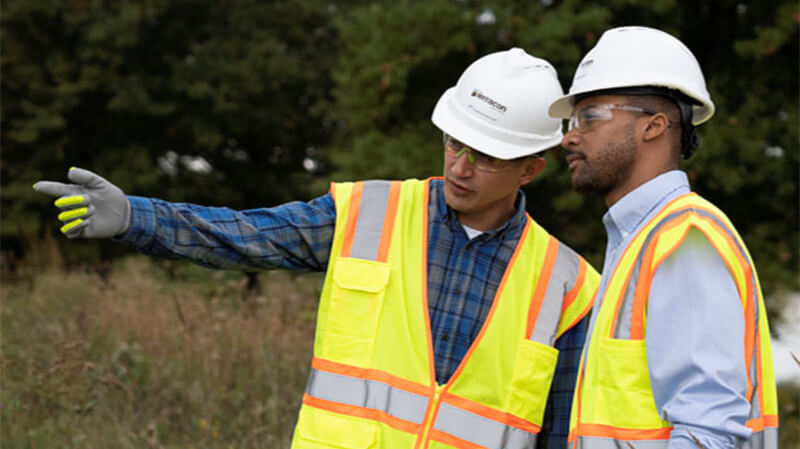 Senior Federal Corporate Marketing Strategist
Olathe, Kansas
Regular, Full Time

Job ID

20742BR
United States
Job Description
TERRACON SUCCESS STARTS WITH YOU!
Terracon employee-owners are on a journey together, bringing our talents, our camaraderie, and our curiosity to bravely explore and discover new and better solutions to overcome client challenges. The candidate will become part of a company committed to delivering success to you, your career, our clients, and to Terracon through our values of caring, courage, curiosity, excellence, integrity, and prosperity. Ranked 21 in Engineering News-Record's 2022 list of the Top 500 Design Firms (ranked 30 just five years ago), Terracon is an exciting, fun place to work and grow professionally!
We are looking for a resourceful, passionate, dedicated professional services marketing professional with a strong initiative to join our corporate marketing team! As a member of our team, you are at the heart of our employee-owned organization with the opportunity to collaborate with outstanding and talented technical, marketing, and client development professionals nationwide to win new business and cultivate an outstanding client experience!
General Responsibilities:
Responsible for leading and supporting the marketing strategy for an engineering consulting firm. Provide consultation to Terracon service line and market sector leaders and local offices on proposal and pursuit strategy. Develop and maintain marketing collateral and resources including proposal content, partnering with external communications on advertising and press releases, national conference and trade show strategy, exhibits, and promotional materials; statements of qualifications, and brochures. Support marketing efforts by researching, tracking sales data, maintaining databases, and planning national trade shows.

Essential Roles and Responsibilities:
Establish relationships and strive to provide an excellent client experience for our internal clients in operations.

Serves as the CRM leader for the team, building the pipeline of pursuits, using the tool to load level and ensure pursuits have marketing leadership, recording activities, and bringing insights and data to the team.

Continually encourages service line or strategic sector leadership to use CRM to store valuable client relationship data.

Act as a resource for local office marketing and client development teams connecting staff and advising on tools and resources available to them.

Works with our local offices to go after strategic pursuits. Can play an either lead or supporting role in proposal development.

Develop marketing strategy and key messages for strategic sector marketing campaigns across the country and for major pursuits.

Consult with local offices on marketing strategy and act as a subject matter expert on the development of marketing processes and materials including proposals, technical or key messaging, and narratives.

Spearhead and collaborate with Service Line and Sector leaders on the development of marketing collateral for new national services.

Monitor media sources for pertinent information relative to specific pursuits.

Lead major pursuit teams on large, complex proposals through all phases of the process. This includes:

Establishing the war room, building the pursuit team, establishing team goals and managing the team to ensure actions are completed.

Consulting with individual pursuit teams to develop pursuit strategies through the use of Project Capture Plans and RFP/Presentation Response Plans.

Leading, organizing, and facilitating pursuit strategy meetings.

Partnering with division and office leadership and individual pursuit teams to determine customized creative solutions and specific materials needed that effectively communicate Terracon's differentiating capabilities to meet our clients' needs and the corresponding level of effort.

Developing and strategizing pre-sell materials, statements of qualifications, presentations, etc.

Facilitating and providing direction to graphic design staff to plan and produce materials.

Ensuring all proposal materials are effectively communicating the strategic vision identified for a given pursuit.

Organizing and coaching presentation rehearsals.

Ensuring all deadlines are met with a high level of quality.

Organize and provide strategy and direction for national collateral and trade show materials.

Partner across the corporate marketing and communications department to ensure consistent strategy and messaging including internal communications, external communications, marketing, graphic design, etc.

Follow safety rules, guidelines, and standards for all projects. Participate in pre-task planning. Report any safety issues or concerns to management.

Be responsible for maintaining quality standards on all projects.
About Terracon
Terracon is a 100 percent employee-owned consulting engineering firm providing quality services to clients. Since 1965, Terracon has evolved into a successful multi-discipline firm specializing in environmental, facilities, geotechnical, and materials services. Terracon currently has more than 5,000 employees in more than 150 offices with services available in all 50 states. Terracon's growth is due to valued employees exceeding expectations in client service and growing their careers with new and exciting opportunities in the marketplace.
Terracon's vision of "Together, we are best at people" is demonstrated through our excellent compensation and benefits package. Based on eligibility, role and job status, we offer many programs including medical, dental, vision, life insurance, 401(k) plan, paid time off and holidays, education reimbursement, and various bonus programs.
EEO Statement
Terracon is an EEO employer. We encourage qualified minority, female, veteran and disabled candidates to apply and be considered for open positions. We do not discriminate against any applicant for employment, or any employee because of race, color, religion, national origin, age, sex, sexual orientation, gender identity, gender, disability, age, or military status.
COVID-19 Safety Response
Committed to Our Employee Safety!
Terracon is passionate about your safety before, during, and after the COVID-19 pandemic.
As Terracon continues to move forward and grow through this time, we are continuing to take every precaution to ensure the safety of our employee-owners. If you are as committed to your success as we are committed to your safety, then Terracon is the company for you!
Our goal has not changed. For Terracon, our guiding principle has been and will continue to be the safety of our employee-owners. It's that simple. We want our employees to be able to work safely in every situation and go home safely each night. As we continue our vision of being "Best at People," here are some of the things Terracon is doing to safeguard every employee-owner:
On-going communication with ALL employee-owners on a dedicated COVID Response page, and a portal for their families to have access to resources as well
Requiring specific COVID-19 Pre-Task Safety Planning Protocols for all tasks and projects
Empowering employees to speak up and say "no" to working in unsafe conditions
Providing an additional 40 hours of sick leave to anyone impacted by COVID-19, including those impacted by daycare and school closures
Offering voluntary reduced work schedule for anyone needing extra time to care for others
Load leveling work assignments across regions to maintain high productivity and chargeability
Ensuring proper PPE and sanitation on all project sites by

providing field employee-owners with mobile hand washing stations and supplies, masks, and sanitizing kits

Utilizing technology for more remote work opportunities and innovation using everything from video conferencing to drones
Following all CDC guidelines including social distancing on job sites, in offices, and in our labs
Implementing a stand-by leave program to ensure our employees continue service and health insurance benefits during regional work shortages
If your passion lies in working with a company that truly cares for your safety,
and if you're interested in belonging to a 100% employee-owned organization that will help you grow and quickly progress in your career, consider Terracon and apply today!