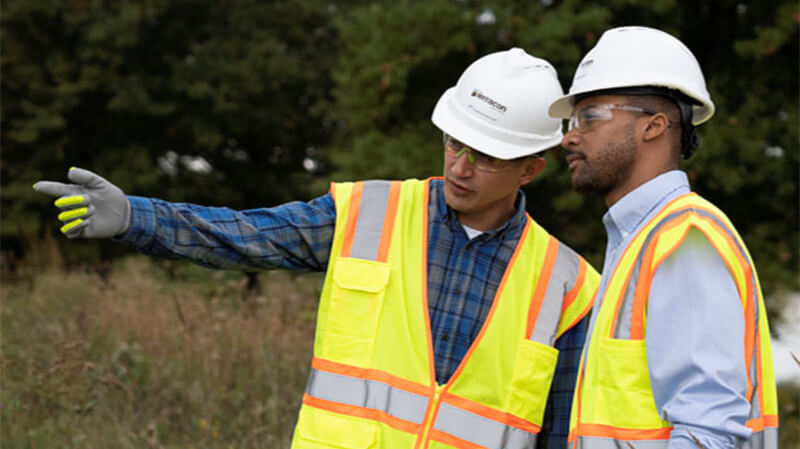 CRM Marketing Manager - Remote/Hybrid
Olathe, Kansas
Regular, Full Time

Job ID

20209BR
United States
Job Description
Terracon is a great company, actually voted as one of the Best Places to Work in the Kansas City region! We have an exciting opportunity within our marketing team for a CRM Marketing Manager. Maybe you have a client development or marketing background and would like to change your focus to supporting our teams with your CRM expertise?
In this role, you will be responsible for managing a team of Customer Relationship Management (CRM) Analysts for an Engineering Consulting firm. Responsible for the design, development, training, implementation and administration of CRM and marketing software support systems
. Need to be an established leader who can partner with sales and marketing leaders to establish how CRM can support the revenue goals of Terracon. Responsible for establishing standard operating procedures to track revenue forecasts and sales goals. Not responsible for revenue generation, but responsible for the articulation of the data and process to drive forecasting and revenue generation across the company. Able to establish protocols and processes across different sales channels, including digital, face-to-face, e-commerce as well as other sales channels.
Essential Roles and Responsibilities:
Manage

a team of CRM Analysts who are responsible for managing the CRM and associated communications systems of the company.

Leads client development in creating standard operating procedures for an office to establish CRM discipline.

Execute the vision and roadmap for CRM.

Facilitate the design and development of CRM training plans for client development/marketing professionals and CRM Champions. Provide necessary tools and assist them in training their team.

Prioritize incoming enhancement requests and lead the design and long-term strategy of Terracon's Client Relationship Management system.

Regularly meet with Office, Division, Service Line and Sector Leaders to discuss needs and assess the future direction of CRM.

Partner with Operational Leadership to design and develop new features and functionality in CRM.

Solution ways to incorporate Operations needs into CRM.

Drive CRM adoption by observing CRM usage trends and developing new ideas to test with office leadership and client development.

Manage the development and implementation of other systems to be integrated with CRM. Prioritize these initiatives with input from SVP of Marketing and Communications.

Client survey

Resumes

Dodge and other lead sources

Email marketing integrations

Terracon.com website

Evaluate MS Dynamics CRM technologies and add-ons and develop plans for their implementation.

Design and manage the implementation of integration of MS Dynamics CRM with other IT business systems and applications used in the company.

Manage data integrity and communicate success and challenges on process and behaviors back to the office and implementation team.

Work with marketing directors and managers to represent CRM in Major Pursuits training.

Collaborate with marketing team for visioning, development of processes and implementation of digital client capture strategies using CRM and related applications.

Support Terracon leadership by developing forecasting and budgeting tools.

Support Operations by training and ensuring all CRM Analysts are familiar with and understand Terracon culture.

Understand the Terracon Pursuit Process and be able to lead a meeting, assign action items, and collaborate with team members on pursuit strategy.

Be knowledgeable about Terracon's national sales and marketing strategies and engage national resources when appropriate.

Develop understanding and be aware of and minimize project-related risk. Be familiar with what could go wrong on a project and how to protect the Company. Be familiar with company risk policies.

Lead safety efforts for team and ensure team follows safety rules and guidelines. Responsible for creating and modeling a safe work environment; demonstrates safety practices. Promote pre-task planning for all projects.

Promote continuous quality monitoring and improvement on projects. Monitor quality standards and practices. Engage APRs on projects at their onset.
Requirements:
Bachelor's degree in communications, marketing, branding or related degree and 10 years' related industry experience. Or, in lieu of a degree, a minimum of 14 years' related experience.

3+ years' successful experience using a CRM system.

Experience with email marketing campaigns or marketing automation.

Strong interpersonal skills to build constructive relationships with other managers, and effectively manage any conflicts or disagreements.

Proficient in change management.

Has a passion for delivering top notch client experience.

Valid

driver's license with acceptable violation history.
Preferred:
Client Development/Marketing experience for a professional services company.
About Terracon
Terracon is a 100 percent employee-owned consulting engineering firm providing quality services to clients. Since 1965, Terracon has evolved into a successful multi-discipline firm specializing in environmental, facilities, geotechnical, and materials services. Terracon currently has more than 5,000 employees in more than 150 offices with services available in all 50 states. Terracon's growth is due to valued employees exceeding expectations in client service and growing their careers with new and exciting opportunities in the marketplace.
Terracon's vision of "Together, we are best at people" is demonstrated through our excellent compensation and benefits package. Based on eligibility, role and job status, we offer many programs including medical, dental, vision, life insurance, 401(k) plan, paid time off and holidays, education reimbursement, and various bonus programs.
EEO Statement
Terracon is an EEO employer. We encourage qualified minority, female, veteran and disabled candidates to apply and be considered for open positions. We do not discriminate against any applicant for employment, or any employee because of race, color, religion, national origin, age, sex, sexual orientation, gender identity, gender, disability, age, or military status.
COVID-19 Safety Response
Committed to Our Employee Safety!
Terracon is passionate about your safety before, during, and after the COVID-19 pandemic.
As Terracon continues to move forward and grow through this time, we are continuing to take every precaution to ensure the safety of our employee-owners. If you are as committed to your success as we are committed to your safety, then Terracon is the company for you!
Our goal has not changed. For Terracon, our guiding principle has been and will continue to be the safety of our employee-owners. It's that simple. We want our employees to be able to work safely in every situation and go home safely each night. As we continue our vision of being "Best at People," here are some of the things Terracon is doing to safeguard every employee-owner:
On-going communication with ALL employee-owners on a dedicated COVID Response page, and a portal for their families to have access to resources as well
Requiring specific COVID-19 Pre-Task Safety Planning Protocols for all tasks and projects
Empowering employees to speak up and say "no" to working in unsafe conditions
Providing an additional 40 hours of sick leave to anyone impacted by COVID-19, including those impacted by daycare and school closures
Offering voluntary reduced work schedule for anyone needing extra time to care for others
Load leveling work assignments across regions to maintain high productivity and chargeability
Ensuring proper PPE and sanitation on all project sites by

providing field employee-owners with mobile hand washing stations and supplies, masks, and sanitizing kits

Utilizing technology for more remote work opportunities and innovation using everything from video conferencing to drones
Following all CDC guidelines including social distancing on job sites, in offices, and in our labs
Implementing a stand-by leave program to ensure our employees continue service and health insurance benefits during regional work shortages
If your passion lies in working with a company that truly cares for your safety,
and if you're interested in belonging to a 100% employee-owned organization that will help you grow and quickly progress in your career, consider Terracon and apply today!