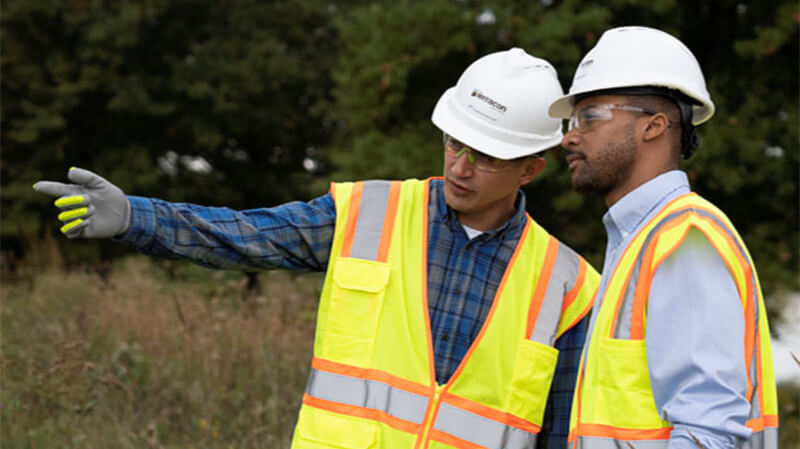 Assistant Project Manager *Remote Only*
Remote
Regular, Full Time

Job ID

20301BR
United States
Job Description
What are you passionate about? Solving challenges? Helping clients? Making an impact in your community?

So are we.
At Terracon, our more than 5,000 employee-owners in offices across the U.S. bring their curiosity and big ideas to deliver great work together for our clients.
We share a common vision: To be the best at people - from hiring great employees and supporting their career growth, to serving our clients with courage and integrity -
and to be innovation leaders
, helping to shape the future of our company, our industry, and our communities.
Leading innovation also means we take our great ideas out into the marketplace, bringing new ways of delivering our services to clients faster, safer, and better, and sharing our expertise to help advance the engineering profession.
Our Stage1 group is leading the way in innovation. The team is growing and looking for additional customer service-minded people to join the team.
This position can be filled in any of our Terracon locations.

General Responsibilities:
Manage all aspects of a Stage1 project, possibly including report content from geotechnical, environmental, materials, and/or facilities service lines, to ensure that it is safely completed on time and within scope and budget. Responsible for Stage1 delivery within published turnaround times, prompt, effective communication with clients both internal and external. Troubleshoot and recommend or resolve operational problems and minimize delays. May be responsible for resource management, project scheduling, budgets and forecasts, and working with external vendors, subcontractors, or contractors. Conducts meetings and prepares reports to communicate the status of the project to the project team and client. Set priorities, assign tasks, and coordinate project staff to meet project targets and milestones. May have responsibilities to communicate with the client and deliver work products to satisfaction of the client. May also have responsibilities to communicate with Terracon personnel to provide coordinated report delivery for clients. Coordinates efforts with the APR to make sure that the APR has the opportunity to engage throughout the project, particularly at critical junctures. Is involved with approving invoices and preparing change orders.
Essential Roles and Responsibilities:
Prepare proposals/task orders - these are created for clients who call in rather than use the Client Portal. Responsible for creating the proposal and or task order for these email or call-in requests.

Project set-up - All requests for reports are submitted into ProjectXChange. Send proposed contracts from the clients to legal for review and conduct all necessary follow up to ensure the contract is finalized.

Building a team for the Stage1 project (local engineers, environmental staff, APR's, SME's, etc...) - Take request for client then communicate with local office on desired work, and ensure they are able to take on the work.

Communicating with clients for project information/requirements - Keep clients up to date on project status.

Prepare Stage1 reports and coordinate on-time delivery - includes review of reports to ensure the report will require minimal edits from an APR.

Responsible for invoicing clients on completed projects.

Manage contracts submitted by vendors; send to legal for review and follow-up.
Contact GeoSearch or other subcontractors for required services (historical aerial photos, online research for past contaminants, etc.
Ensure bookings are correct in the system - offices are charging to the right projects.
Potentially assign related projects to the Stage1 and provide coordinated report delivery for our clients.
Assist with client development tasks, such as demonstrations of the Client Portal, as necessary; assist clients when they call for additional services.
Requirements:
Bachelor's degree in technical discipline practices by the Firm including Engineering, Environmental Science or Geology and a minimum of 2 years' related experience. Or, in lieu of a degree, a minimum of 6 years' related experience.
Valid driver's license with acceptable violation history.
About Terracon
Terracon is a 100 percent employee-owned consulting engineering firm providing quality services to clients. Since 1965, Terracon has evolved into a successful multi-discipline firm specializing in environmental, facilities, geotechnical, and materials services. Terracon currently has more than 5,000 employees in more than 150 offices with services available in all 50 states. Terracon's growth is due to valued employees exceeding expectations in client service and growing their careers with new and exciting opportunities in the marketplace.
Terracon's vision of "Together, we are best at people" is demonstrated through our excellent compensation and benefits package. Based on eligibility, role and job status, we offer many programs including medical, dental, vision, life insurance, 401(k) plan, paid time off and holidays, education reimbursement, and various bonus programs.
EEO Statement
Terracon is an EEO employer. We encourage qualified minority, female, veteran and disabled candidates to apply and be considered for open positions. We do not discriminate against any applicant for employment, or any employee because of race, color, religion, national origin, age, sex, sexual orientation, gender identity, gender, disability, age, or military status.
COVID-19 Safety Response
Committed to Our Employee Safety!
Terracon is passionate about your safety before, during, and after the COVID-19 pandemic.
As Terracon continues to move forward and grow through this time, we are continuing to take every precaution to ensure the safety of our employee-owners. If you are as committed to your success as we are committed to your safety, then Terracon is the company for you!
Our goal has not changed. For Terracon, our guiding principle has been and will continue to be the safety of our employee-owners. It's that simple. We want our employees to be able to work safely in every situation and go home safely each night. As we continue our vision of being "Best at People," here are some of the things Terracon is doing to safeguard every employee-owner:
On-going communication with ALL employee-owners on a dedicated COVID Response page, and a portal for their families to have access to resources as well
Requiring specific COVID-19 Pre-Task Safety Planning Protocols for all tasks and projects
Empowering employees to speak up and say "no" to working in unsafe conditions
Providing an additional 40 hours of sick leave to anyone impacted by COVID-19, including those impacted by daycare and school closures
Offering voluntary reduced work schedule for anyone needing extra time to care for others
Load leveling work assignments across regions to maintain high productivity and chargeability
Ensuring proper PPE and sanitation on all project sites by

providing field employee-owners with mobile hand washing stations and supplies, masks, and sanitizing kits

Utilizing technology for more remote work opportunities and innovation using everything from video conferencing to drones
Following all CDC guidelines including social distancing on job sites, in offices, and in our labs
Implementing a stand-by leave program to ensure our employees continue service and health insurance benefits during regional work shortages
If your passion lies in working with a company that truly cares for your safety,
and if you're interested in belonging to a 100% employee-owned organization that will help you grow and quickly progress in your career, consider Terracon and apply today!