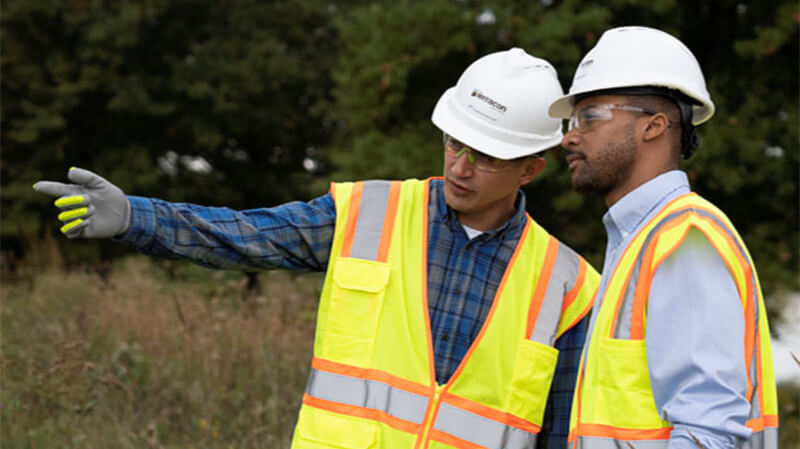 Client Development Manager
Midvale, Utah
Regular, Full Time

Job ID

22009BR
United States
Job Description
Come, "Explore with us" in Salt Lake City, UT as Terracon's next Client Development Manager! Terracon's Salt Lake City office has been in the A/E/C market since 1980 and is very well established.
For this opportunity, our employee-owner,
will support clients on projects ranging from commercial, healthcare, municipal, federal, aviation, renewable energy, and transportation through our environmental, facilities, geotechnical, materials and landscape architecture service lines.
This opportunity is for an experienced Architecture / Engineering / Construction (A/E/C) industry specific Client Developmentprofessional
who will be responsible for fostering current key relationships and developing new ones, along with identifying business opportunities critical for Terracon's growth and success in the region. Other responsibilities include; leading and mentoring a strong group of professionals in the Salt Lake City and intermountain areas
.
General Responsibilities:
Continue to solidify and foster Terracon's many long-term relationships within our industry. Actively search for new business opportunities and develop and foster long-term client relationships related to our service lines. Utilize contacts in appropriate professional organizations to network with potential clients and develop intelligence regarding the firm's competition. Use networking contacts to develop leads and provide new projects from past, existing and future clients. Work with the marketing team to prepare marketing materials including qualification packages, written proposals and other client submittals.

Essential Roles and Responsibilities:
Provides client development leadership within a large 100-person office. This would include tracking and reporting of key marketing information, facilitating strategy meetings, motivating and training others in the art of client development and major project pursuit, managing key client relationships and professional organization membership and networking.

Working with staff that may include marketing specialists and client development specialists.

Collaborates with management to develop client development plans, budgets and performance goals for their staff and themselves.

Develops key competencies in the companies' business intelligence tools, to assist managers and others in strategic decision making (markets, sectors, go/no-go, etc.) and making the best use of their time and efforts.

Has the experience and know-how to facilitate strategy meetings for both client and major project pursuits.

Oversees the process of reporting client development results. This includes client and project pursuits, RFPs, proposals, key wins and losses, industry activities and other general marketing responsibilities.

Regularly engages department, office, and regional management to keep them informed of activities and results, and regularly meets with supervisor to discuss progress on initiatives and plans as well as other items including career advancement.

Works with corporate personnel including national accounts, sectors and marketing to assist in overall company goals related to revenue growth.

Attend professional organization, government and technical meetings/events as a representative of Terracon and coordinate/participate in these meetings and events on a regular basis.

Develop understanding and be aware of project-related risk. Be familiar with what could go wrong on a project and how to protect the Company. Be familiar with company risk policies.

Lead safety efforts for team and ensure team follows safety rules and guidelines. Responsible for creating and modeling a safe work environment; demonstrates safety practices.

Promote continuous quality monitoring and improvement on projects. Monitor quality standards and practices. Engage technical professionals in projects at their onset.
Requirements:
Bachelor's degree Engineering, Engineering Sciences, Environmental Sciences, Marketing and/or related degree with 10 years' related experience in the field. Or, in lieu of a degree, a minimum of 14 years related experience.

Valid driver's license with acceptable violation history.

Proven track record of client development and establishing and maintaining excellent relationships in the A/E industry
About Terracon
Terracon is a 100 percent employee-owned consulting engineering firm providing quality services to clients. Since 1965, Terracon has evolved into a successful multi-discipline firm specializing in environmental, facilities, geotechnical, and materials services. Terracon currently has more than 5,000 employees in more than 150 offices with services available in all 50 states. Terracon's growth is due to valued employees exceeding expectations in client service and growing their careers with new and exciting opportunities in the marketplace.
Terracon's vision of "Together, we are best at people" is demonstrated through our excellent compensation and benefits package. Based on eligibility, role and job status, we offer many programs including medical, dental, vision, life insurance, 401(k) plan, paid time off and holidays, education reimbursement, and various bonus programs.
EEO Statement
Terracon is an EEO employer. We encourage qualified minority, female, veteran and disabled candidates to apply and be considered for open positions. We do not discriminate against any applicant for employment, or any employee because of race, color, religion, national origin, age, sex, sexual orientation, gender identity, gender, disability, age, or military status.