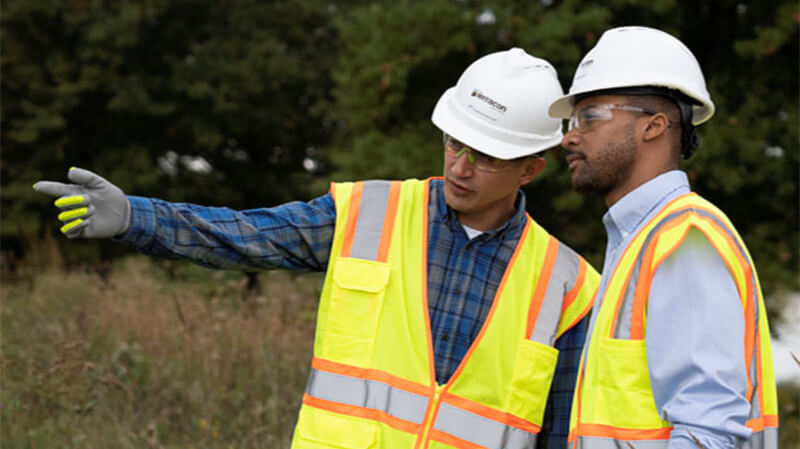 Laboratory Supervisor
Houston, Texas
Regular, Full Time

Job ID

20722BR
United States
Job Description
Come to Terracon and discover what great looks like! Here, you'll have the opportunity to work with great people and work on great projects. At Terracon, you can have the opportunity to build a career focused on rewarding and exciting projects that help the community where you live.

At Terracon, safety is a core value. Working safely is an uncompromising commitment at all levels of the company to ensure everyone goes home safe to their family each and every day.
This is an exciting department with great cohesion among the members. The revenue continues to rise, as does the size of the team. We would expect the person who takes this position to continue the growth in both areas. This is a great opportunity for a person who is ready to take this next step in their career.
General Responsibilities:
Responsible for coordinating or managing the activities of a Construction materials laboratory (testing includes materials such as soils, aggregates, concrete, asphalt, and fireproofing). This includes ensuring that the laboratory testing services are conducted in a safe manner and consistent with company quality protocols, project requirements, and in a timely manner. Oversee or coordinate the training and utilization of laboratory staff. Oversee or coordinate the maintenance and cleanliness of the laboratory and testing equipment.

Essential Roles and Responsibilities:
Assists the Laboratory Manager in ensuring that laboratory personnel are properly trained, supervised and equipped with the necessary tools and equipment to ensure their personal safety in the office and laboratory.

With oversight from the Laboratory Manager, coordinates laboratory activities to ensure that the work is executed on time and in accordance with the client and project requirements and within company policies, procedures and standards.

Ensures that laboratory processes and personnel adhere to the requirements of the company Quality program and the Construction Materials Quality Management System (QMS).

Evaluates the performance of all employees within the laboratory and assists them in their professional development and growth, consistent with company policies and procedures.

Supervises the efficient utilization of facilities and equipment used in the lab and makes requests for additional equipment and facilities as needed to meet the client's demands.

Assists Laboratory Manager in overseeing calibration and maintenance of the laboratory equipment.

Ensures the proper organization and appearance of the laboratory area for which he/she is responsible, including keeping the area and equipment clean and uncluttered.

Assists the Laboratory Manager in supervising the administrative systems of the laboratory to ensure that reports, and information required to serve the client are properly prepared and reported.

Communicates with laboratory staff, project managers, management, and clients on a daily basis to ensure needs are being met.

Ensures that laboratory personnel follow company administrative policies. Examples of such policies include, but are not limited to, time sheets, and expense reports.

Performs construction materials related laboratory testing. Geotechnical testing ability is a plus, but, not a requirement.

Develop understanding and be aware of project-related risk. Be familiar with what could go wrong on a project and how to protect the Company. Be familiar with company risk policies.

Assists the Laboratory Manager in leading safety efforts for team and ensure team follows safety rules and guidelines. Responsible for creating and modeling a safe work environment; demonstrates safety practices. Promote pre-task planning for all projects.

Assists the Laboratory Manager in performing daily lab safety discussions with laboratory staff.
Requirements:
High school diploma or equivalent.

Minimum 3 years' experience performing laboratory tests on construction materials. Geotechnical testing experience is a plus, but, not a requirement.

Certification by qualified national, regional or state authorities (ACI, NICET, DOT) or in-house certification is required in areas such as concrete, aggregates, soil and rock, or road and paving materials.

Valid driver's license with acceptable violation history.

Must have the ability to work weekends

Work schedule is 7 am to 5 pm daily (Monday to Friday), however, must be able to come in earlier or work later, if needed.
Competencies
Proficient with Microsoft Programs is a plus (Outlook, Excel, Word, Powerpoint and Teams)

Ability to work effectively in a fast-paced environment

Ability to communicate effectively with others

Ability to effectively prioritize tasks

Ability to be a Leader

Ability to be a Decision Maker
About Terracon
Terracon is a 100 percent employee-owned consulting engineering firm providing quality services to clients. Since 1965, Terracon has evolved into a successful multi-discipline firm specializing in environmental, facilities, geotechnical, and materials services. Terracon currently has more than 5,000 employees in more than 150 offices with services available in all 50 states. Terracon's growth is due to valued employees exceeding expectations in client service and growing their careers with new and exciting opportunities in the marketplace.
Terracon's vision of "Together, we are best at people" is demonstrated through our excellent compensation and benefits package. Based on eligibility, role and job status, we offer many programs including medical, dental, vision, life insurance, 401(k) plan, paid time off and holidays, education reimbursement, and various bonus programs.
EEO Statement
Terracon is an EEO employer. We encourage qualified minority, female, veteran and disabled candidates to apply and be considered for open positions. We do not discriminate against any applicant for employment, or any employee because of race, color, religion, national origin, age, sex, sexual orientation, gender identity, gender, disability, age, or military status.
COVID-19 Safety Response
Committed to Our Employee Safety!
Terracon is passionate about your safety before, during, and after the COVID-19 pandemic.
As Terracon continues to move forward and grow through this time, we are continuing to take every precaution to ensure the safety of our employee-owners. If you are as committed to your success as we are committed to your safety, then Terracon is the company for you!
Our goal has not changed. For Terracon, our guiding principle has been and will continue to be the safety of our employee-owners. It's that simple. We want our employees to be able to work safely in every situation and go home safely each night. As we continue our vision of being "Best at People," here are some of the things Terracon is doing to safeguard every employee-owner:
On-going communication with ALL employee-owners on a dedicated COVID Response page, and a portal for their families to have access to resources as well
Requiring specific COVID-19 Pre-Task Safety Planning Protocols for all tasks and projects
Empowering employees to speak up and say "no" to working in unsafe conditions
Providing an additional 40 hours of sick leave to anyone impacted by COVID-19, including those impacted by daycare and school closures
Offering voluntary reduced work schedule for anyone needing extra time to care for others
Load leveling work assignments across regions to maintain high productivity and chargeability
Ensuring proper PPE and sanitation on all project sites by

providing field employee-owners with mobile hand washing stations and supplies, masks, and sanitizing kits

Utilizing technology for more remote work opportunities and innovation using everything from video conferencing to drones
Following all CDC guidelines including social distancing on job sites, in offices, and in our labs
Implementing a stand-by leave program to ensure our employees continue service and health insurance benefits during regional work shortages
If your passion lies in working with a company that truly cares for your safety,
and if you're interested in belonging to a 100% employee-owned organization that will help you grow and quickly progress in your career, consider Terracon and apply today!