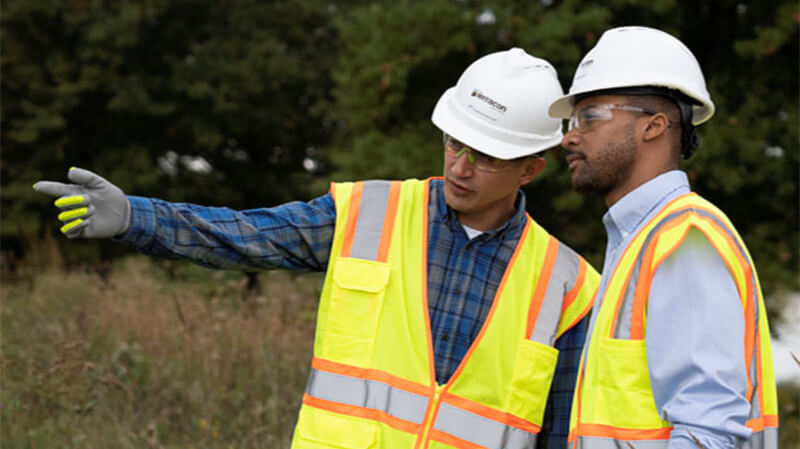 Field Facilities Professional – FCA-Focused
Concord, California
Regular, Full Time

Job ID

24716BR
United States
Job Description
Explore with us!
Terracon is looking for Facilities Property Condition Assessors with a focus/interest in Facility Condition Assessments (FCA) to join our teams in the Los Angeles and Concord offices! This position is an opportunity to assist and expose those early in their professional careers to all areas within our Facilities Consulting Division. You will see firsthand what the consulting side of the A/E/C industry may look like but was never exposed to. In addition, Terracon offers an excellent compensation and benefits package including medical, dental, vision, life insurance, 401(k) plan, and paid time off and holidays.
Why should you work with us?
Because for us, quality and doing what's right for our people and our clients is key! At Terracon, we are driven by a growth mindset and believe that mentorship relationships are a two-way street – we learn from each other no matter what our experience level. You will be mentored by a team that believes in work-life balance, healthy work environments, a diverse and equitable atmosphere, assertive communication, setting you up for success, and led by leadership that empowers you to excel in your endeavors. If you are up for an exciting and challenging opportunity for your career, we look forward to visiting with you!
Within our mentorship and training program, you will primarily assist in performing on-site Facility Condition Assessments (FCA) and Property Condition Assessments (PCA) for a wide range of clients. This will be balanced with in-office/hybrid report assessments and team meetings/trainings. As a part of a team, work may include on-site assessment of all major components, building systems, and other infrastructure. You will be exposed to a wide range of projects that may include diagnostic testing, accessibility, evaluations of building enclosures, plaza deck and below grade waterproofing systems, pavement and landscaping, industrial infrastructure, and construction materials. Services may be provided for existing or proposed projects in the commercial, retail, multi-family, hospitality, senior living, industrial, medical, and/or governmental sectors. Assessment methods will be primarily visual examination, but may include non-destructive testing (IR Scans, Moisture Meters, ELD Testing, etc.), and destructive examinations – all of which we will train you for if you're unfamiliar with the process! Client deliverables range from reports of findings to managing/inputting building system inventory data.

Essential Roles and Responsibilities:
Perform reviews of diverse facilities requiring expertise and knowledge in multiple areas of construction to identify, inventory, and assess the condition of individual facility systems and building components.

Perform visual inspections as directed in accordance with training and specified procedures to inventory and assess the condition of facility systems and components.

Review construction as-built drawings, performing take-off measurements and documenting quantities.

Interact with clients, facility occupants, and other facility personnel to coordinate work and identify underlying condition of facility systems.

Inventory facility systems. Accurately classify, quantify, and rate the condition of facility systems as assigned.

Identify and document observable deficiencies in facility systems.

Estimate costs for replacements, refurbishments, and repairs to address or mitigate deficiencies observed in facility systems, using Terracon's estimating sources.

Provide clear documentation of findings and results of inspections utilizing various mobile and computer software solutions.

Perform basic analysis of data to verify accuracy before communication and submittal to the Project Manager.

Communicate information to Project Manager and other personnel as directed.

Maintain quality standards on all projects.

Provide oversight and training in the field as assigned.

Work with experienced senior staff teammates in developing your expertise in facility-related interests.

Plans, schedules, conducts and/or coordinates assessments and testing of property, buildings, and roofs.

Drafts reports and other client deliverables under the direction of more senior consultants.

Empowered to make recommendations, adaptations, and modifications for review and consideration by senior consultants.

Over time, participates on projects of greater complexity within more detailed portfolios.
Requirements:
Bachelor's degree in facilities management, architecture, building science, engineer, or related field. Associates or bachelor's degree in Facilities Management, Construction Management, Construction Engineering, Mechanical Engineering, Electrical Engineering, Civil Engineering, Architecture, or related field. Or, in lieu of a degree, a minimum of 4 years' related work experience.

0 - 2 years' experience in facility assessment or related.

Valid driver's license with acceptable violation history.

Regional travel, generally in and around the San Francisco Bay Area, Los Angeles, Orange County, and San Diego areas. Many projects require overnight stays in or near field locations. Some projects require a minimum stay of one week in or near field locations. Limited out-of-state travel, but we have flexibility.

Follow safety rules, guidelines and standards for all projects. Participate in pre-task planning, safety check-ins while in the field, and following project specific safety protocols. Report any safety issues or concerns to management.

Be responsible for maintaining quality standards on all projects.

Desire to learn, excel, and not be afraid of asking questions!

Proficient in using mobile tablet and phone devices.

Proficient in Microsoft Office Suite, including Excel and Word.

Ability to walk for long periods of time - 6 to 8 hours a day.
Desired/A Plus:
IFMA membership or similar facility management association

Demonstrated history of assessment expertise or college degree-focus in at least one area of construction, building type, or technology, e.g. waterproofing, multi-family, etc.

Experienced understanding in one or more of the following:

Facility asset inventory and equipment inventory

Facility condition assessment

Building life safety code compliance

Building Enclosure Systems, such as exterior walls, windows, doors, roof systems

Heating, Ventilation, and Air Conditioning Systems

Building and Site Electrical Systems

Building and Site Plumbing Systems

Americans with Disabilities Act (ADA) compliance assessment

ASHRAE Levels I and II energy audits

Preventive Maintenance Planning
The expected salary range for this position is listed below. The base range may be adjusted based on the specific location of the applicant. Final agreed upon compensation is based upon individual qualifications and experience.
$31.75 - $44.50 per hour
About Terracon
Terracon is a 100 percent employee-owned multidiscipline consulting firm comprised of more than 6,000 curious minds focused on solving engineering and technical challenges from more than 175 locations nationwide. Since 1965, Terracon has evolved into a successful multi-discipline firm specializing in environmental, facilities, geotechnical, and materials services. Terracon's growth is due to our talented employee-owners exceeding expectations in client service and growing their careers with new and exciting opportunities in the marketplace.
Terracon's vision of "Together, we are best at people" is demonstrated through our excellent compensation and benefits package. Based on eligibility, role and job status, we offer many programs including medical, dental, vision, life insurance, 401(k) plan, paid time off and holidays, education reimbursement, and various bonus programs.
EEO Statement
Terracon is an EEO employer. We encourage qualified minority, female, veteran and disabled candidates to apply and be considered for open positions. We do not discriminate against any applicant for employment, or any employee because of race, color, religion, national origin, age, sex, sexual orientation, gender identity, gender, disability, age, or military status.