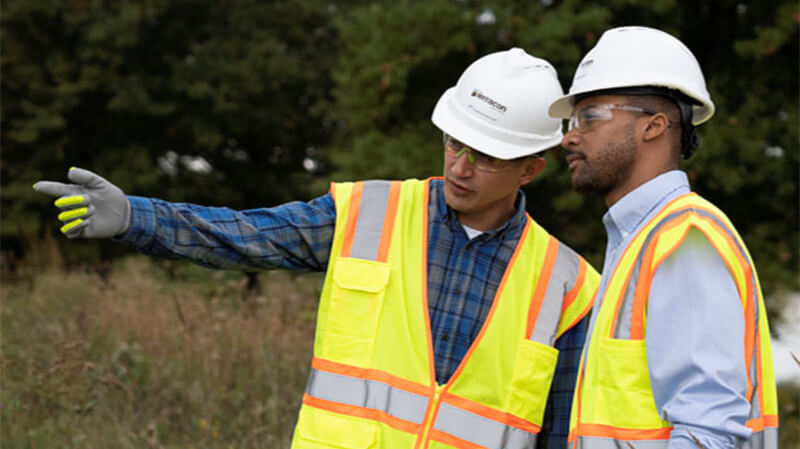 Accessibility-Focused Field Facilities Professional
Carson, California
Regular, Full Time

Job ID

20592BR
United States
Job Description
Explore with us!
Terracon is looking for Facilities Property Condition Assessors with a focus/interest in accessibility (ADA) to join our teams in the Los Angeles and Walnut Creek offices! This position is an opportunity to assist and expose those early in their professional careers to all areas within our Facilities Consulting Division. You will see firsthand what the consulting side of the A/E/C industry may look like but was never exposed to in school or design firms. In addition, Terracon offers an excellent compensation and benefits package including medical, dental, vision, life insurance, 401(k) plan, and paid time off and holidays.
Why should you work with us?
Because for us, quality and doing what's right for our people and our clients is key! At Terracon, we are driven by a growth mindset and believe that mentorship relationships are a two-way street – we learn from each other no matter what our experience level. You will be mentored by a team that believes in work life balance, healthy work environments, a diverse and equitable atmosphere, assertive communication, setting you up for success, and led by leadership that empowers you to excel in your endeavors. If you are up for an exciting and challenging opportunity for your career, we look forward to visiting with you!
Within our mentorship and training program, you will assist in performing on-site accessibility reviews, Property Condition Assessments (PCA), and Facility Condition Assessments (FCA) for a wide range of clients. This will be balanced with in-office/hybrid report assessments, and team meetings/trainings. As a part of a team, work may include on-site assessment of all major components, building systems, and other infrastructure. You will be exposed to a wide range of projects that may include accessibility, evaluations of building enclosures, plaza deck and below grade waterproofing systems, pavement and landscaping, industrial infrastructure, and construction materials. Services may be provided for existing or proposed projects in the commercial, retail, multi-family, hospitality, senior living, industrial, medical, and/or governmental sectors. Assessment methods will be primarily visual examination, but may include non-destructive testing (IR Scans, Moisture Meters, etc.), instrumentation and load testing, laboratory testing (Terracon has full service in-house lab), and destructive examinations – all of which we will train you for if you're unfamiliar with the process! Client deliverables range from reports of findings and recommendations to working with an A/E team to develop restoration design documents and construction oversight/administration.
Essential Roles and Responsibilities:
Work with a team and collaborate on projects primarily focused on the betterment of accessibility infrastructure.

Work with experienced senior staff teammate in developing your expertise in facility-related interests.

Entry level facilities professional responsible for managing and executing projects progressively based on acquired experience.

Works typically on small to medium sized projects.

Plans, schedules, conducts and/or coordinates assessments, inspections and testing of property, buildings, and roofs.

Drafts reports and other client deliverables under the direction of more senior consultants.

Empowered to makes recommendations, adaptations, and modifications for review and consideration by senior consultants.

Over time, participates on projects of greater complexity within more detailed portfolios.
Requirements:
Bachelor's degree in facilities management, architecture, building science, engineer, or related field. Or, in lieu of a degree, a minimum of 4 years' related experience.

0 - 2 years' experience in facility assessment or related.

Valid driver's license with acceptable violation history.

Regional travel, generally in and around the Los Angeles, Orange County, and San Diego areas. Limited to moderate out-of-state travel, but we have flexibility.

Follow safety rules, guidelines and standards for all projects. Participate in pre-task planning. Report any safety issues or concerns to management.

Be responsible for maintaining quality standards on all projects.

Desire to learn, excel, and not be afraid of asking questions!
Desired/A Plus:
Master's degree or professional licensure, Certified Access Specialist program (CASp), Registered ICC Accessibility Consultant

Demonstrated history of assessment expertise or college degree-focus in at least one area of construction, building type, or technology, e.g. waterproofing, multi-family, etc.

Basic knowledge of the accessibility standards of the ANSI A117.1, the 1991 and 2010 ADA Standards, the Fair Housing Act, UFAS and Section 504.
About Terracon
Terracon is a 100 percent employee-owned consulting engineering firm providing quality services to clients. Since 1965, Terracon has evolved into a successful multi-discipline firm specializing in environmental, facilities, geotechnical, and materials services. Terracon currently has more than 5,000 employees in more than 150 offices with services available in all 50 states. Terracon's growth is due to valued employees exceeding expectations in client service and growing their careers with new and exciting opportunities in the marketplace.
Terracon's vision of "Together, we are best at people" is demonstrated through our excellent compensation and benefits package. Based on eligibility, role and job status, we offer many programs including medical, dental, vision, life insurance, 401(k) plan, paid time off and holidays, education reimbursement, and various bonus programs.
EEO Statement
Terracon is an EEO employer. We encourage qualified minority, female, veteran and disabled candidates to apply and be considered for open positions. We do not discriminate against any applicant for employment, or any employee because of race, color, religion, national origin, age, sex, sexual orientation, gender identity, gender, disability, age, or military status.
COVID-19 Safety Response
Committed to Our Employee Safety!
Terracon is passionate about your safety before, during, and after the COVID-19 pandemic.
As Terracon continues to move forward and grow through this time, we are continuing to take every precaution to ensure the safety of our employee-owners. If you are as committed to your success as we are committed to your safety, then Terracon is the company for you!
Our goal has not changed. For Terracon, our guiding principle has been and will continue to be the safety of our employee-owners. It's that simple. We want our employees to be able to work safely in every situation and go home safely each night. As we continue our vision of being "Best at People," here are some of the things Terracon is doing to safeguard every employee-owner:
On-going communication with ALL employee-owners on a dedicated COVID Response page, and a portal for their families to have access to resources as well
Requiring specific COVID-19 Pre-Task Safety Planning Protocols for all tasks and projects
Empowering employees to speak up and say "no" to working in unsafe conditions
Providing an additional 40 hours of sick leave to anyone impacted by COVID-19, including those impacted by daycare and school closures
Offering voluntary reduced work schedule for anyone needing extra time to care for others
Load leveling work assignments across regions to maintain high productivity and chargeability
Ensuring proper PPE and sanitation on all project sites by

providing field employee-owners with mobile hand washing stations and supplies, masks, and sanitizing kits

Utilizing technology for more remote work opportunities and innovation using everything from video conferencing to drones
Following all CDC guidelines including social distancing on job sites, in offices, and in our labs
Implementing a stand-by leave program to ensure our employees continue service and health insurance benefits during regional work shortages
If your passion lies in working with a company that truly cares for your safety,
and if you're interested in belonging to a 100% employee-owned organization that will help you grow and quickly progress in your career, consider Terracon and apply today!