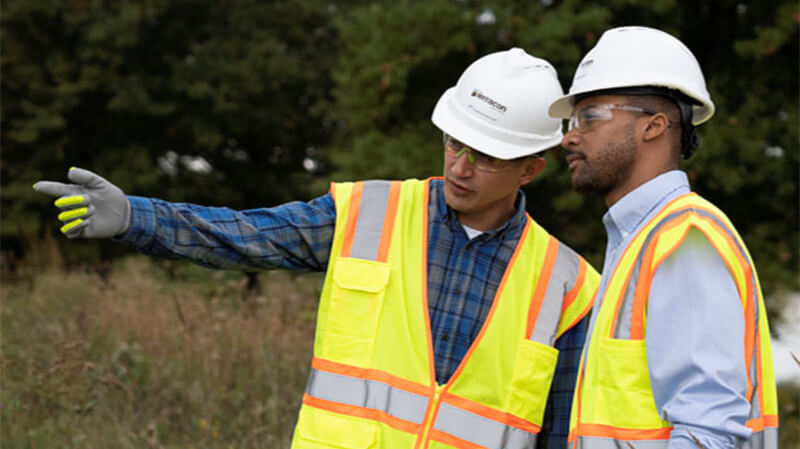 Project Manager
Austin, Texas
Regular, Full Time

Job ID

24555BR
United States
Job Description
General Responsibilities:
Terracon's Austin, Texas office is seeking a self-motivated, growth-minded individual for the position of Asbestos/Industrial Hygiene Project Manager to join our well-established environmental practice! This position offers a professional growth opportunity in a fast-paced work environment with the nation's #1-ranked asbestos and lead design firm. Terracon's market penetration in the Austin/Central Texas market offers career stability with most practitioners in the group currently serving between 8 and 25 years. We are offering growth opportunities for the next generation of asbestos/IH practitioners in Austin as part of our succession planning.
Terracon has over 200 asbestos practitioners in 70 offices, plus 27 CIHs and another 150 industrial hygiene practitioners in offices from coast to coast. We are committed to growing our asbestos/industrial hygiene (IH) service line by providing the highest quality service, growing the diversity of industry sector projects, developing, and retaining skilled professionals, and growing our national asbestos/IH coverage footprint. This aggressive growth strategy will create vast opportunities for asbestos/industrial hygiene professionals seeking to grow!
General Responsibilities:
This position will play a key role in the growth of our asbestos, lead, mold, indoor air quality, and industrial hygiene practice. In this role, you will be responsible for all aspects of Asbestos/IH projects in the Austin, Texas office and you will provide support to the surrounding San Antonio, Waco, Bryan/College Station offices, and the Central, Texas area.
Our project managers ensure that work is performed on time, on budget, and meets our client's requirements and company policies, procedures, and standards. The duties of the position generally include: high level client communications and consulting, proper scoping of services, performing complex asbestos, lead, mold, indoor air quality, noise and industrial hygiene investigations; preparing and reviewing reports documenting surveys and field services for clients.
You will also participate in business development activities with the office leadership team to identify, develop, win, and execute exciting project opportunities and build and maintain client relationships.
Other duties may include resource management, project scheduling, budgeting, forecasting, leading a small team, and working with external vendors, subcontractors, or contractors.
Essential Roles and Responsibilities:
• Lead safety efforts and follow safety rules and guidelines. Responsible for creating and modeling a safe work environment, demonstrating safety practices, and promoting pre-task planning for all projects.
• Prepare proposals, develop sampling strategies, outline required analysis, and prepare cost estimates.
• Perform field studies including: asbestos, lead-based paint, and mold surveys of various scopes; airborne asbestos and lead in air monitoring of abatement/remediation projects; and inventories/disposal of other regulated hazardous substances.
• Operate and maintain field monitoring equipment. Maintain chain-of-custody in sample submission to appropriate laboratory for analysis.
• May oversee work performed by staff and implement technical requirements to complete client projects by directing and supervising field staff to sample, test and collect data and/or document site activities.
• Estimate the costs, resources, and time required to complete the assigned phase of a project and monitor activities, allocate resources and assign tasks to ensure these targets are met.
• Develop understanding and be aware of project-related risk. Be familiar with what could go wrong on a project and how to protect the Client and Company. Be familiar with company risk policies.
• Set priorities, assign tasks, and coordinate services to meet milestones and deliver project deliverables within budget and on time.
• Evaluate complex laboratory and field/sampling data, prepare reports, risk assessments, and develop recommendations to correct and improve the environment.
• Present and communicate findings and report recommendations to clients.
Requirements:
• Bachelor's degree in Industrial Hygiene, Environmental Science, or related science field.
• Minimum 5 years' experience in consulting or construction industry.
• Valid driver's license with acceptable violation history.
Preferred:
• Texas Asbestos Consultant, Inspector, and/or Project Manager/Air Monitor license.
• Texas Lead Inspector/Risk Assessor Certification.
• NIOSH 582 Certificate (PCM Microscopy).
• Bilingual (English/Spanish).
General Working Conditions:
• This position requires the employee to work flexible hours and occasional weekends. Occasional overnight travel may also be required.
• The employee must be able to lift-and-carry for short distances up to 50 pounds and assist in team lift-and-carry for short distances up to 100 pounds.
• This position occasionally requires the employee to work in humid, hot, damp, and cold conditions as well as work at heights and in close spaces.
• This position requires ladder use, including the use of 16' and 30' extension ladders.
Terracon offers competitive compensation, medical/dental insurance plans, 401K/ESOP & Stock ownership, paid vacation and holidays, and numerous other benefits of employment.
About Terracon
Terracon is a 100 percent employee-owned multidiscipline consulting firm comprised of more than 6,000 curious minds focused on solving engineering and technical challenges from more than 175 locations nationwide. Since 1965, Terracon has evolved into a successful multi-discipline firm specializing in environmental, facilities, geotechnical, and materials services. Terracon's growth is due to our talented employee-owners exceeding expectations in client service and growing their careers with new and exciting opportunities in the marketplace.
Terracon's vision of "Together, we are best at people" is demonstrated through our excellent compensation and benefits package. Based on eligibility, role and job status, we offer many programs including medical, dental, vision, life insurance, 401(k) plan, paid time off and holidays, education reimbursement, and various bonus programs.
EEO Statement
Terracon is an EEO employer. We encourage qualified minority, female, veteran and disabled candidates to apply and be considered for open positions. We do not discriminate against any applicant for employment, or any employee because of race, color, religion, national origin, age, sex, sexual orientation, gender identity, gender, disability, age, or military status.